Multi-platinum rockers Hinder have rescheduled dates to celebrate the 15th Anniversary of their debut Extreme Behavior.  The band will perform the LP live in its entirety for the first time ever. Extreme Behavior reached #6 on the Billboard 200 and #2 on the Top Rock Albums chart and the second single 'Lips of an Angel' became one of the biggest songs of the year reaching the top 10 across several Billboard singles charts, including #1 at Top 40 and Pop 100. Extreme Behavior has since been certified 3x Platinum. Prior to the anniversary trek, the band will be playing a series of festival and one-off dates. Tickets for the gigs are on sale now.
"It's a strange feeling to think that our first major label album came out 15 years ago! This tour is going to be the first time that we've played some these songs since 2005. Going back through the catalogue brings back so many memories of where we were when each song was written. I can't wait to see how people react to each song at the shows!" Cody Hanson.
Hinder most recently released their cover of the Eagles classic 'Life in the Fast Lane' that premiered on Loudwire this past summer. The band is working on new material and will head into the studio later this year.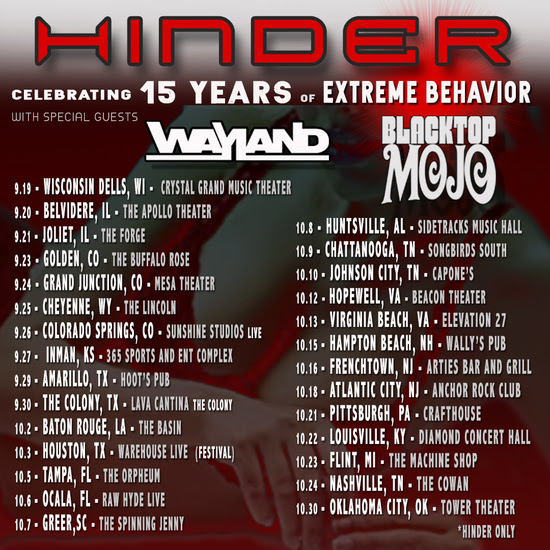 Release plans for Hinder's seventh studio album will be announced soon. The set will follow 2017's The Reign and will be the first they do completely on their own terms. Cody Hanson explains:  "We're excited about releasing the next album, but in a different way than usual. We've never had the opportunity before to completely control every aspect of the creative process until now. We've worked really hard to get to this point and we can't wait to share the outcome with our fans!"