Nadine Shah To Release Fourth Album:
Kitchen Sink -  Out June 26th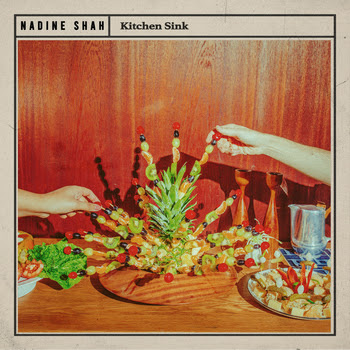 Nadine Shah will release her fourth studio album Kitchen Sink on June 26th via Infectious Music/BMG. Kitchen Sink is the follow up to Shah's Hyundai Mercury Prize nominated 2017 album Holiday Destination - a triumphant unification of a political message with an infectiously driving groove which received critical acclaim including AIM Awards 'Independent Album of the Year', a #7 'Album of the Year' from BBC 6 Music and #5 from The Quietus. Kitchen Sink was produced by long time collaborator and producer Ben Hillier (Blur, Doves, Depeche Mode) who also co-wrote and played most of the instruments on the album. 
The first single from Kitchen Sink, 'Ladies For Babies (Goats For Love)' was recently released and represents the major themes of the album: what society expects from women. Shah talks about the track: "My brother was making a comment on sexism when he was younger and made a painting of a man embracing a goat with the phrase "ladies for babies, goats for love". It always stuck with me, I guess cause it sounded daft but really because even back then I knew its true meaning and intent. I was also thinking about a lot of the songs I would have been listening to at the time, songs I sang along to innocently without question of the meaning. 'Ladies for Babies' is a direct response to 'All That She Wants' by Ace of Base. I reversed the gender and I poke fun at a husband who expects nothing more from me, as a wife, than to carry his child and perform the role of the obeying subservient trophy wife. Only this time the mistress is a farmyard animal. A lot of my album explores subjects of sexism and tradition. It's not all about beastiality, I promise."
Watch Ladies For Babies (Goats For Love) on YouTube:
Kitchen Sink Tracklist
Club Cougar
2. Ladies For Babies (Goats For Love)
3. Buckfast
4. Dillydally
5. Trad
6. Kitchen Sink
7. Kite
8. Ukrainian Wine
9. Wasps Nest
10. Walk
11. Prayer Mat
With the same ferocious determination and distinct voice Shah now turns her sights closer to home with an album that explores her own story as a woman in her 30's and the societal pressures and expectations that come with that. The album also tells the stories of countless other women she has met and their differing yet equally very similar experiences. Shah explains more saying:

"It's a conversation between me and so many of my friends in our 30's. There's that panic that so many of us have that we are running out of time, when it comes to having children. It's like when we were younger we all made our own timelines in our minds of when we thought we would do certain things. If you were to tell 14 year old me I'd be 34, unmarried and have no children I'd have never believed it. Lots of my friends I've spoken to did this very same thing.

My entire friend circle of women I grew up with now have children. I've watched some of the biggest idiots (I say that totally in jest!) become the most amazing mothers. I'm happy for them, properly happy for them. I worry for them whenever they doubt themselves and am here for them to support them when they need me. I'm proud of them. But you can't help but compare your situation to the ones around you and this is what a lot of me and other female friends are feeling in our 30's and 40's. This pressure.

For the album I spoke to so many women. Women who want to have children and can't physically, women who can physically but choose not to, all different scenarios. My good friend, a woman in her late 50's chose not to have children and continues to be one of my favourite musicians and most youthful vibrant person I know. Her story is in this album too. Essentially I'm writing about so many women that I just love. The new mothers, the rock stars, the ones doubting themselves who need our support, the ones who are ill but show an indescribable strength.

There's traditions that were set out years ago of how our lives should be and that has changed completely now and I for one am so proud to be a woman and to be surrounded by even greater ones."

Kitchen Sink is available for preorder now on CD and heavyweight black vinyl. There will also be a limited edition opaque orange vinyl with the artist store offering signed albums and exclusive merch bundles. Shah plans to play N. America for the first time in 2021 with details to be announced at a later date. 
Listen to the title track 'Kitchen Sink' on Youtube: